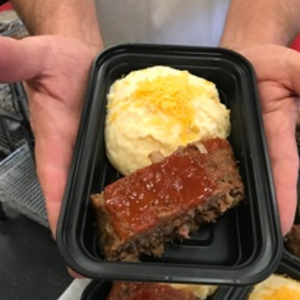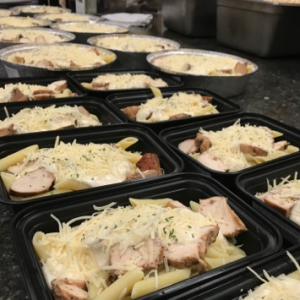 Micro-Meals
Designed for the microwave and priced at only $6.95 each, these are great for college students on a budget, older adults needing easy meals, children with lots of different schedules, or a quick delicious lunch at work.
Perfectly seasoned beef and beans are wrapped in a corn tortilla. It comes with salsa rice and a layer of white cheese dip.
Tender creamy egg noodles are tossed with Sam's delicious beef brisket. Don't miss this one!
This warm and comforting beefy black bean chili is soothing enough to make the stress of the day melt away.
Cheese-filled ravioli is covered with our homemade marinara sauce. A sprinkle of cheese provides the finishing touch.
This chicken, broccoli and rice dish will comfort your tummy and your soul on a cold winter evening!
Folks will enjoy a change from the traditional when they spoon into this flavorful blend of chicken, white beans, green chilies and fresh cilantro.
Our creamy chicken and veggie filling gets wrapped in a corn tortilla and is accompanied by salsa rice.
Sam's smoked chicken is tossed with penne pasta and creamy Alfredo.
Chicken, fresh carrots, celery, and egg noodles are simmered in a flavorful broth. The definition of comfort food!
Based on Momma's recipe, this spaghetti dish is one of our best sellers.
Creamy Chicken Tortilla Soup
Carla always refers to this as "a party in a bowl". Black beans, corn, salsa, chicken, green onions, herbs, and spices combine with a bit of cream cheese for some major deliciousness. Comes with tortilla chips for garnish.
A savory slice of meatloaf is served with a side of twice-baked potatoes.
Cheddar potato soup includes fresh carrots, onion, and bacon, of course!
Poppyseed Chicken with Rice
Shredded chicken is mixed in a creamy sauce and then layered over tender white rice. The combination is wonderful!
Tender brisket and mashed potatoes are drenched in savory Au jus.
What's more family-friendly than a big bowl of spaghetti and meatballs topped with melted mozzarella cheese?
Our Mexican lasagna is layered with corn tortillas and cheddar cheese.
Ground beef, chili beans, corn, green chilies, tomatoes, and all the warm spices = love in a bowl on a cold evening!
Sam's smoked turkey breast is sliced and served with delicious cornbread dressing. It all gets a layer of gravy, yum!
Potatoes, corn, tomatoes, onions, green beans, and ground beef simmered with beef broth and herbs. A bowl full of goodness!
Seasoned meatballs and pasta are covered in our rich Alfredo sauce.
Pot Roast, Carrots,
&

Potatoes