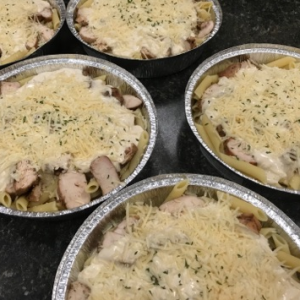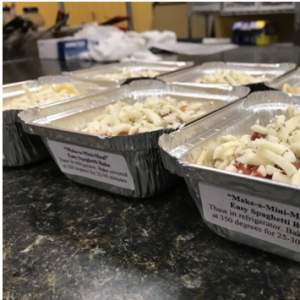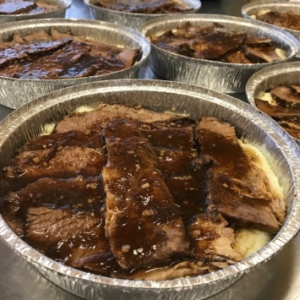 MAIN DISHES
Our most popular size meal is packaged in a 6″ x 12″ rectangular or a 9″ round aluminum pan. This meal will serve 3-4 adults. Price per meal is $17.75.
Many of our meals are also available in single-serving "Mini Meals". These meals are packaged in 4″ x 5″ aluminum pans. Price per meal is $6.95.
Our Mexican lasagna is layered with corn tortillas and cheddar cheese.
Tender creamy egg noodles are tossed with Sam's delicious beef brisket. Don't miss this one!
Flame-roasted peppers and onions combine with fajita meat for this quick, easy dinner. Just warm in your skillet and serve in flour tortillas which are included.
Corn tortillas are layered with a creamy, tomato chicken mixture. A layer of cheddar cheese tops off this Mexican favorite.
Creamy Chicken Broccoli Bake
This chicken, broccoli and rice dish will comfort your tummy and your soul on a cold winter evening!
This bacon, egg, and cheese casserole is perfect for brunch or even a light dinner.
What's more family-friendly than a big bowl of meaty spaghetti topped with melted mozzarella cheese?
Shrimp and crab are the stars in our seaside meal. This slightly creamy casserole has rice, veggies and a cheddar cheese topping.
Seasoned ground beef, refried beans, and cheese make the filling for these flour tortillas. The secret seasoning for the beans just happens to be our Fresh Salsa.
Comfort food at it's finest! A flaky pastry crust tops our version of chicken pie.
Smoked Turkey and Dressing
Sam's smoked turkey breast is sliced and served with delicious cornbread dressing. It all gets a layer of gravy, yum!
Alfredo Meatballs with Penne
Penne pasta and creamy Alfredo sauce make this a family favorite.
Momma's Best Ever Meatloaf
Carla's mom, Nora Faye, is the real person behind Momma's Meatloaf. You tell us it's some of the best you've tasted.
This Italian favorite has layers of pasta, meaty marinara sauce and yummy cheeses. What more do we need to say?
Based on Momma's recipe, this spaghetti dish is one of our best sellers.
Chicken in a creamy sauce topped with cracker crumbs. Yum-o!
Caribbean Chicken Enchiladas
Black beans, corn, chicken, and roasted red bell peppers are just a few of the fresh ingredients in these enchiladas. Topped with our own sauce and cheese, this is another of our best-selling meals.
Beef Brisket and Potatoes
Sliced beef brisket with plenty of Au jus tops creamy mashed potatoes. This will be a winner with the "meat and potato" members of your family.
Individual foil packets hold these seasoned fish fillets. No need to thaw, these go straight from the freezer to the oven. Healthy, delicious and easy!
This kid favorite is topped with homemade marinara and mozzarella cheese.
Italian-style beef meatballs are drenched in our homemade marinara sauce and sprinkled with Parmesan cheese.
Roasted Red Pepper Tilapia
Pot Roast, Carrots and Potatoes
Pretzel Crusted Porkchops